My Marathon Story – Anna Iley
After returning to running in 2012 a marathon was not on my radar. I'd done many half marathons pre-children but never even considered further than 13.1miles! Gradually, I started to get my fitness back, then as did thousands of people do every year, I entered the Ballot for the London Marathon. Not thinking for one minute I'd get a place but the email came on 1st October 2015… You're in!!!
Oh…what happens now?
I've really got to get my act together. But how do I do it? Do I just run further each week? How fast do I run? What about food? Is there anything else I need to know about? I wanted to make the most of the place I had, being a competitive person I needed a goal and I was ready to put everything into it. It was important to train properly and to train smart. There was a lot to learn, it's a big jump from 13.1 to 26.2miles so I invested in a coach.
The training!
Having a coach was the best thing I did, the planning was taken care of, I knew that I had someone to go to for questions and advice. The plan was written around my family life/work and gave me structure. Marathon training is time consuming there is no getting away from that, however, training smart means that every session counted, no wasted miles. Inevitably there were dips in motivation, times when I didn't think I was getting anywhere but I soon learned that this is completely normal. My coach was there to pick me up again get me motivated by saying the right things at the right times and tweaking the plan.
Winter training consisted of working on my base/aerobic fitness. The runs were slow and steady, I enjoyed these runs, lots of time to myself to contemplate life! Gradually these runs got longer and longer, I could feel my speed increasing whilst my heart rate stayed the same. I did feel at this point that all the speed I did have, had gone. However, the next part of the training was introducing tempo, shorter speed and strength work. These felt hard, especially the hill repeats, however, feeling yourself improve week on week was incredibly satisfying. It felt as though I was building on my fitness layer upon layer. Adding in nutrition practise into the runs, finding the right gels meant I planned my routes to go past public toilets!
The London Marathon
The London Marathon came around, I felt prepared, relaxed, excited. My race plan had been practised. My first marathon, in my head it would be the only one – it's hard work! However, I was there! One of the most emotional, exhilarating and amazing experiences of my life. I did it, achieved my goal, smiled my way around London and pushed to the end. Crossed the line, wiped away the tears and thought… "I want to do that again!"
| | |
| --- | --- |
| In 2016 it went from here… | …to here in 2018!! |
| | |
I would never have been able to do this without a coach that is for sure!
This year I returned to London after achieving a Good For Age place, with new targets, better knowledge and experience. Not only as an athlete but now as a fully qualified running coach. The race gave the same emotion and exhilaration as it did the first time. However, due to life events I wasn't as fit as I wanted so my race plan had options! During the race I had to revert to Plan B (not the one I wanted but was prepared for), still had to wipe away the tears of elation at the end. Even though it wasn't the result I wanted, the experience was just the best!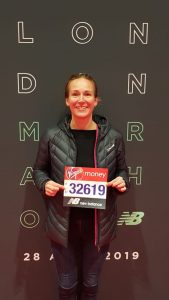 The London Marathon… everyone should do it at some point in their lives.
My Marathon goals… well that would be telling!
What a coach can bring
• Accountability – Your coach will be checking that you are training correctly, they take responsibility for your plan, adjusting it accordingly and working with you around your other commitments.
• Your coach will want you to achieve your goals just as much as you do.
• Training will be structured and achievable.
• Inspiration.
• They will work with you throughout the plan.
• Race preparation.
• Nutrition – during training and for races.
• Injury prevention – every plan is designed around you, what you are able to do and aiming to achieve.
• Knowledge.
• Motivation.
• Advice for those things that you think only happen to you, for example, chaffing in 'those' places, believe me, they will of experienced it too!
The list can go on and on but the only thing you need to do, alongside your training, is 'believe and trust in your coach'.